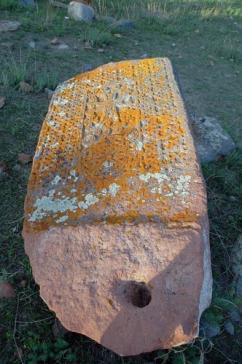 Stone in Akori
But there are also other discoveries and confirmations which lead me to the conclusion that these are all gravestones:
1. Confirmation:
Acording to a legend there was a monk named Jacob who climbed Mount Ararat in the 4th century to find Noahs ark. He found a piece of wood and assumed that this was from the ark. At the discovery place on the northern part of the mountain he erected a monastery with the name Akori.
Today you can also find an Armenian graveyard at this place. Both the monastery and the nearby village were destroyed by an earthquake in 1840.
Among these gravestones some have holes and all have crosses carved on them, though they are more elaborate than the stones in Sagliksuyu.
These stones are called Khachar, the name given to Armenian Cross-stones. They often have one big cross in the middle and four smaller crosses in each corner. You can find them all over Armenia and even in Jerusalem.
There is the idea, that the holes on top of the stones were used to drag them easier from a quarry in the surrounding mountains to there final place.